About Mace Yampolsky
Mace started practicing law many years ago. He leads a successful criminal practice and now taking the throne for your dog bite cases!
Martindale-Hubbell, Has awarded Mace Yampolsky an AV rating,the highest rating available. Less than 7% of all law firms in the US are given this honor. This rating is obtained by an independent rating of lawyers and judges who are familiar with his representation of clients, including opposing counsel. Mace was a founding member, a director and past president of the Nevada Attorneys for Criminal justice (NACJ) an affiliate of the National Association of Criminal Defense lawyers (NACDL).
Mace graduated from the University of San Diego School of Law.in 1980. His undergraduate degree was from Boston University in 1976. He had a double major, Economics and Political Science . Mr. Yampolsky is past President of the Nevada Attorneys for Criminal Justice. He was admitted to the Nevada bar in 1984.the California bar in 1981,The Massachusetts  Bar in 1982. He was admitted to the US Supreme court bar  in 1986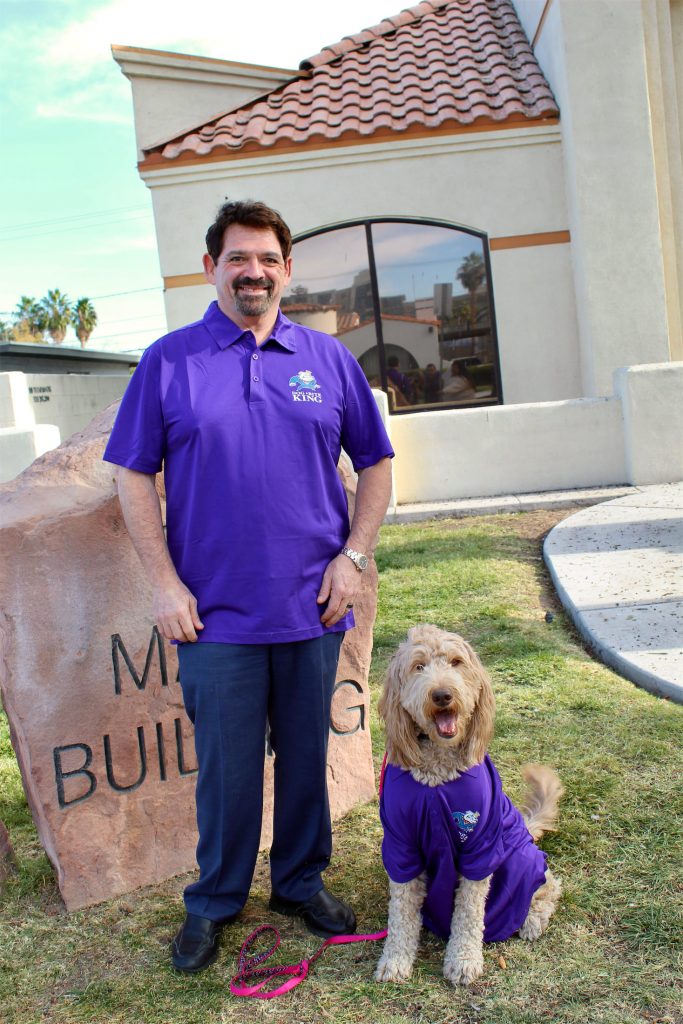 Mace J. Yampolsky, Esq.
A seasoned trial attorney since 1981, Mr. Yampolsky has tried virtually every type of serious criminal matter, including numerous murder cases. Some of Mr. Yampolsky's many successes include: obtaining three murder acquittals; a dismissal of a capital murder case on a procedural issue; an acquittal in the nationally recognized "Computer Gang" case; and successfully arguing before the United States Supreme Court in Riggins v Nevada 504 U.S. 127 (1992), a death penalty case.
In that case, Riggins' conviction was reversed and remanded for a new trial. Mr. Yampolsky literally saved the life of his client, David Riggins. The Case of the Rockabilly Shootings is another very high-profile matter that was handled by Mr. Yampolsky was the murder case dubbed by the media the "Rockabilly Shootings." Mr. Yampolsky's client was accused of killing someone who had tried to kill him. The victim was a gang member and Mr. Yampolsky's client stated that the victim was known to have a gun on him.
Mr. Yampolsky's defense was clearly one of self-defense. After much investigation, Mr. Yampolsky found the car that was driven by one of the decedent's cohorts. It had two bullet holes which supported the defense theory that the decedent had a gun and that his client had in fact fired in self-defense. Jury verdict: Not Guilty.
In a Federal Fraud, high profile case,THe computer gang case. Mr. Yampolsky handled a Federal matter with 13 co-defendants and 541 counts involving the use of computers and inside knowledge to wager large sums of money to their advantage. End result was a Not Guilty verdict for each of the thirteen co-defendants on all 541 counts.
Additional cases Mr. Yampolsky handled a murder case on behalf of a friend's nephew. The shooting was a result of a drug deal that went very badly. His client, Chris, had a full plate indeed. One victim was shot three times (by Chris) and was severely wounded. Another individual was shot and killed by Chris in a struggle, and Chris himself was shot. Wisely, Chris wisely elected not to speak with the police after he was arrested.
Mr. Yampolsky's contention was that he needed a theory of the case in order to win. Merely relying on reasonable doubt or on the prosecution not meeting their burden of proof may not be enough to win. Mr. Yampolsky believes you need to give the jury "something to hang their hat on." It became apparent to Mr. Yampolsky quite early in the case that this would be argued as self-defense.
Mr. Yampolsky immediately retained the services of an investigator, who interviewed several witnesses within days, including the soon-to-be co-defendant. The statements of the witnesses proved invaluable as the case progressed. Mr. Yampolsky believes that a thorough investigation is quite often the key to a good result, and of course having the right investigator. Based in large part on the testimony of Mr. Yampolsky's client and the State's first witness, it became clear that there had been a struggle for the gun that had actually killed the decedent, which supported the defense theory of an accidental killing.
During final argument Mr. Yampolsky often pulled out the murder weapon and asked the jury, "What would you do if this was pointed at you?" Mr. Yampolsky showed the jury the self-defense instruction that said if there was evidence of self-defense presented, then the State must prove beyond a reasonable doubt that self-defense in this case did not exist. To illustrate this point, he enlarged this jury instruction to poster size and circled "must." Mr. Yampolsky further enlarged an accidental killing instruction that said if you have a doubt whether this killing was intentional or accidental then you shall (also circled) find the Defendant not guilty. The jury deliberated 6 hours, and found Mr. Yampolsky's client Not Guilty on all counts. Chris was looking at consecutive life sentences if convicted.
Recently He defended a sexual assault on a minor case. He was able to show the jury that the complaining witness had changed his story several times and was not believable. The theme of the final argument was "The truth never changes"
Because of his long time Criminal practice MR Yampolsky has tried over 200 jury trials, both State and Federal court,He brings this vast trial experience to all his cases, including Dogbite cases. Mr Yampolsky handled a Dog bite case in which his client's vocal chords were severed and she was not able to talk. Her deposition took 5 days She needed to write her answers unless it was a yes or a no. While in settlement negotiations. Mr Yampolsky told the opposing attorney, "I have tried more cases than your entire firm combined", (which was true) the case settled for high 6 figures. He brings this type of commitment expertise and intensity to all of his cases including yours.
His daughter Molly was bitten by a dog when she was a toddler and she had a scar on her face but she was raised so she was not afraid of every dog but has learned to appreciate when a dog could be aggressive and dangerous, He has written numerous ebooks about dogs and dogbite cases.
Mr. Yampolsky is past President of the Nevada Attorneys for Criminal Justice. (NACJ) Mr. Yampolsky graduated from the University of San Diego School of Law in 1980 and Boston University in 1976. Admitted to California State Bar, 1981, , October, 1984 Admitted to Colorado State Bar, 1994 Admitted to Massachusetts State Bar, 1982 (currently inactive)
Memberships and Organizations: National Board of Trial advocacy, Certified Criminal Trial Advocate. State Bar of Nevada, Certified Criminal Law Specialist (Chairman, 1995-1997) Continuing Legal Education Committee, Association of Trial Lawyers of America Nevada Trial Lawyers Association National Association of Criminal Defense Lawyers Life Member Nevada Attorneys for Criminal Justice Founding Member, Board Member/Secretary 1997 1998; Vice President 1998 1999; President 1999 2000; Currently a Director.
IN 2009, he handled the high-profile case of Elaine Clermont that was televised on Court TV. In that case. Ms. Clermont was acquitted of first-degree kidnapping which carried a potential life sentence.